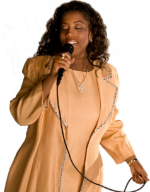 Early in her career, Lolitha Oliver sung at the Peoples Workshop in Houston, TX and was a 2-year nominee for The Sammy Davis Jr. Award. It was also during that time were she met The Mighty Clouds of Joy, a long time gospel group from the 80's. In college Lolitha studied Theatre Arts and began to pursue interests in acting. She appeared in the movie Jason's Lyric with stars Allen Payne and Jada Pinkett. In addition, she appeared in The Directors Cut and other small films. She recently appeared in The Preacher's Daughter and Zombified released this year 2012. Despite her endeavors in the secular world, Lolitha always put God first.
After getting married, Lolitha had a son and started her Solo career soon thereafter. She sung at The Gospel By The Sea for several years in Galveston, TX. working with the youth choir as well as singing in the Ensemble headed by Mathew Stanford. She opened for artists such as Bobby Jones & The Nashville Star Choir and Vickie Winans. Along the way, Lolitha's family continued to grow with the addition of a little girl to her family tree.
Lolitha Oliver's music ministry has given her the opportunity to spread God's word and glory to people throughout the world. Guided by her personal motto, "Singing To Reach Souls" Lolitha hopes to inspire others to develop a relationship with God. Lolitha Oliver creates songs capable of touching hearts and penetrating the spirit of mankind. Her goal is to continue to use her talents to reach and motivate others. Thank you for visiting!
To Purchase Music Go To:
Experience
Joined At The Heart Film Festival Movie Premier April 24, 2017 9pm. Featured Artist Lolitha in the film.

April 22, 2017 All Of My Sister & Me Gospel Stage Play/Musical 7pm

August 13, 2016 3:00pm & 7:00pm Stage Play: "No More Secrets" The WTAO Center
July 30, 2016 11:00am Featured Artist Edwards Cinema Theatre Houston, Tx., Movie Premiere Screening: Joined At The Heart
April 23, 2016 3pm and 7pm Stage Play: "Family Secrets" The WTAO Center, 3036 Antoine Dr. Houston, TX
September 19, 2015 5pm Stage Play: The Son We Were Meant To Be WTAO Center
August 15, 2015 3pm and 7pm 3036 Antoine Dr Houston,Tx 77092 Stage Play: The Sons We Were Meant To Be

Stage Play:( The Sons We Were Meant To Be ) Written & Directed By Debra Atkins When: Aug. 8th 7 pm & Aug. 15, 2015 3 pm & 7 pm @ WTAO Center


Video Release November 5, 2014 Album Holy...Artist

The Preacher's Mistress November 29, 2013 Lifetime movie Director Michelle Mower...fearture appearance

July 13, 2013 Summer Gospel Explosion @ Word of Faith Christian Life Center 324 S. Westward, La Marque, Tx. 77568 @ 6pm.
Upcoming Event: May 18, 2013 and June 1, 2013 CD signing at........Hasting.......2004 Texas Avenue S. College Station, TX. 77840

Check out Airplay360 Magazine April 2013 issue featuring me as the Rising Star. Click here
Thank you to the awesome Editorial Director, Publisher and fabulous Team of Experts. God is good!
January 21, 2013 Listen to my CD Release Party on The Simply Inspiring Show with Terry McGee on Fishbowl Network! Go to www.fbrn.us click on Inspiration tab to listen from 5:00pm to 7:00pm
Lolitha Oliver is The Minister of Music for Lincoln Bible Church Houston in Missouri City under the leadership of Bishop Ken Giles.
Don't forget you can purchase my music thru Tatemusicgroup.com by Digital Downloading.
Lolitha will appear in the Airplay360 Magazine for the month of Sept/Oct. & Nov./Dec. 2012.
Tate Music Group Release Lolitha's Commercial Trailer for Albulm Holy May29, 2012 available on YouTube which aired on cabel channels.
Lolitha appeared in two movies released this year 2012 titled The Preacher's Daughter & Zombified.
Hastings Entertainment hosted a Cd Release signing May 12, 2012 Lake Jackson,Tx. for Lolitha By: Tate Music Group.
CD Release Albulm Title: Holy May 8, 2012 available on Tate Music Group,Amazon.com, iTunes and Rhapsody.

See me live in Dallas Texas February 19, 2011 at The Gospel Celebration at 2PM featuring Dorothy Norwood!